Harrison Davies
is Tru's younger brother. He and Lindsay were formerly together, however, she broke it off, and married an old friend. Harrison is played by actor
Shawn Reaves
. In the season 1 finale "
Two Weddings and A Funeral
", Harrison is shot and killed by the jealous ex-husband of a woman he had just met. His corpse asks Tru for help, but Jack warns her that saving him will cause someone else to have to die to take his place. At the end of the episode, Jack's manipulations cause Luc to get shot instead of Harrison. In season two he works for his father's law firm. His father implies he has plans for him (possibly becoming like Jack and himself), but as the show was canceled this was never resolved.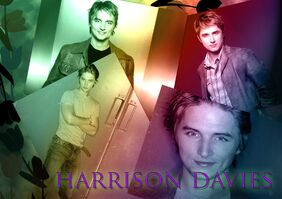 Personality
Edit
Harrison is irresponsible but does care about Tru. He was at first skeptical of her powers but began to believe them. He is not good with money, usually gambling it away. He was friends with Jack Harper before finding out who he really was.